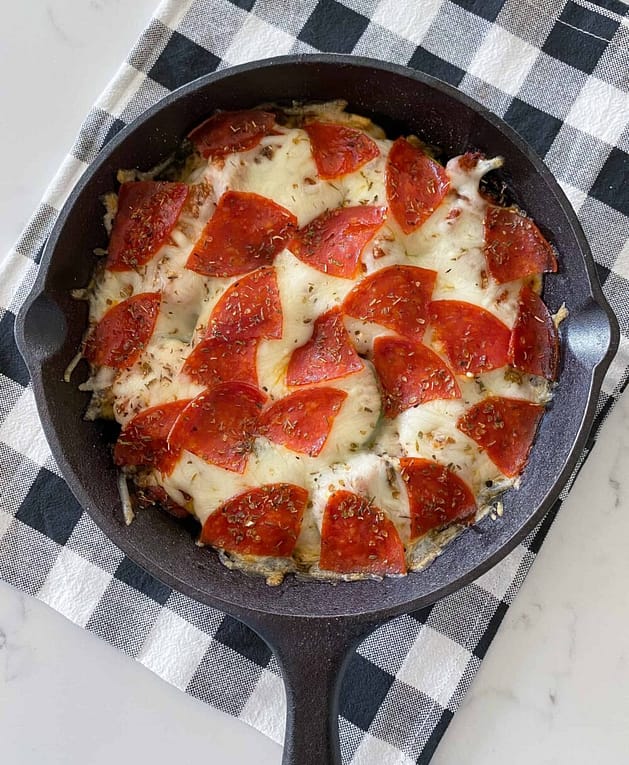 You Wanna Pizza This?
Yeah you do!
One of my favorite food traditions of all time has always been pizza Fridays. I'm sure it probably started as a kid in middle school when pizza was served every. Single. Friday. Without fail. But going through high school my parents would often do a huge order of several different strapped-up pizzas on Friday night, typically paired with some low-brow TV or a good movie. Classic stuff.
The beauty of keto is you don't necessarily have to abandon your favorite traditions like that one in favor of watching what you put on your plate. Where there's a will, there's a way, and there is a will for keto pizza!
This is a bit of a spin on keto pizza that's far, far quicker and easier than a traditional approach, so naturally I'm going to start with this one. However, all my pizza lovers should keep their eyes peeled for future takes on keto pizza recipes because I assure you there will be plenty. This one takes about 15 minutes and is super easy to throw together as a last-minute lunch, dinner or Friday-night movie grub. Seriously, this takes almost no effort and comes out perfect every time. Have at it!
---
⏰ Total time: 5 mins prep / 10 mins cooking
🔪 Makes: 4 servings
Ingredients
19.5 ounces sweet Italian turkey sausage
1 (10 ounces) package frozen or fresh riced caulifower and broccoli (you can also use all cauliflower rice)
1 cup pizza sauce
1 ounce sliced pepperoni (about 17 slices)
1/2 cup whole milk shredded mozzarella cheese
Parmesan for sprinkling on top
Directions
🍴 Step 1
Bust out a big, hefty skillet. Pop it on medium heat and start browning and crumbling your sausage. Once the sausage is ready, add your riced cauliflower and broccoli. Sizzle it up until it's a soft as you want it to be.
🍴 Step 2
Now we pizza-ify it! Stir in your pizza sauce, then add your layers of pepperoni and cheese. Cover the skillet long enough to get the cheese nice and melty, then simply sprinkle some Parmesan on top and it's ready to serve!
🔪 Secret Tip: You can add zucchini to take this skillet to the next level!
🔪 Nutrition Information
Calories: 382
Carbohydrates: 6.5g
Fiber: 2g
Protein: 29g
Fat: 23g