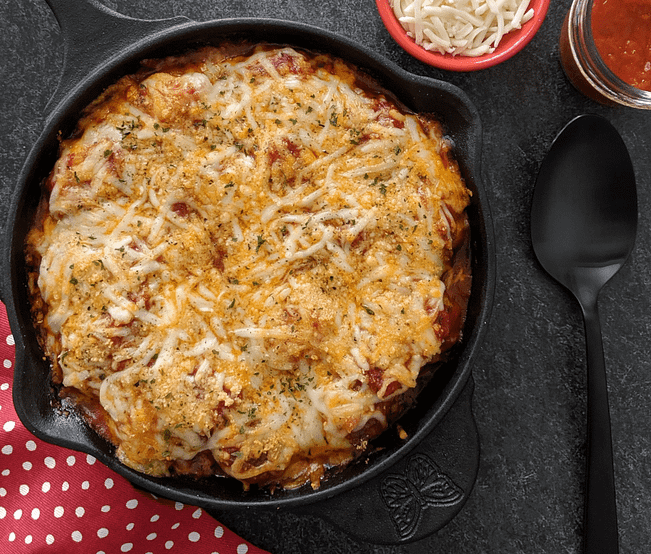 This Is Almost Too Fast
Guys, stop. Stop what you're doing. Stop everything. This is insane. This might be my favorite keto recipe of all time.
Okay, first of all, chicken parm is just awesome. Like, you really can't go wrong with chicken parm, am I right? Exactly. You know what else you can't go wrong with? A casserole, am I right? Exactly. So, what is this recipe about to do? Take a guess.
If you guessed something to the tune of "blow everyone's mind by combining chicken parmesan and casserole while still staying keto-friendly because life is just that awesome sometimes," well then you may want to consider a career as a psychic because you just read my mind. Yeah, we're going there and we're going there full throttle. This is such a great meal for any day of the week — it's delicious, it's homey, it's a crowd-pleaser and it is so damn easy to make it almost feels like cheating. Not to mention you can make this one off the cuff or freeze it a day ahead of time and then have it ready to go at a moment's notice. Not that the prep is all that long or anything, it's just nice to have the option if you need it.
---
⏰ Total time: 5 mins prep / 25 mins cooking
🍴 Makes: 6 servings
Ingredients
5 cups cooked chicken, cubed
1 cup no-sugar-added marinara sauce
1/2 teaspoon red pepper flakes
1 cup Parmesan cheese, grated
1-1/2 cups shredded mozzarella cheese
1 ounce pork rinds, crushed
1/2 teaspoon dried basil, crushed
Directions
🍴 Step 1
Preheat your oven to 350 and grab a square baking pan or dish of your choice, about 8-inches in size. Lightly grease it.
🍴 Step 2
Spread the chicken in the baking pan and bathe it in tomato sauce. Sprinkle with the red pepper flakes, then some parmesan, then some mozzarella to make a nice juicy blanket of goodness on top of that chicken. Lightly sprinkle the rushed pork rinds and basil over the top as a finishing touch.
🍴 Step 3
Pop that sucker in the oven and walk away for 25 minutes. You'll know it's done perfectly when the cheese is melted and bubbling. Pull it out, then step back and admire your swift and delicious handiwork. Dinner is served!
🔪 Nutrition Information
Serving size: 1/6 of the pan
Calories: 438
Total fat: 25.6g
Carbohydrates: 4.2g
Fiber: 0.8g
Protein: 43.8g
Images and dietetic information sourced from: Hey Keto Mama