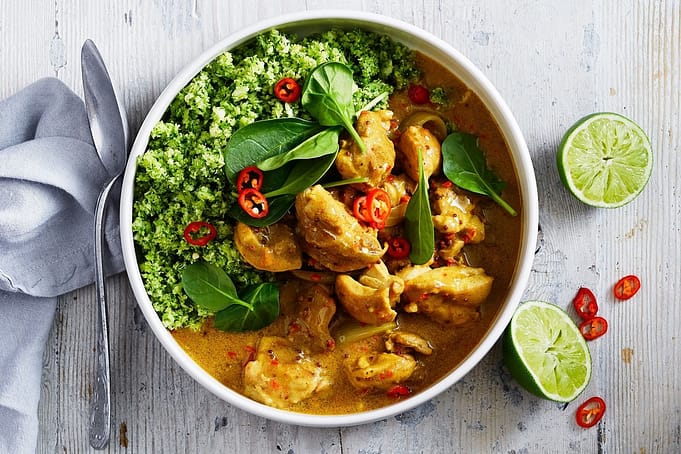 Getting Curried Away
Alright, so moving past the terrible, terrible pun, there's actually a couple really cool things I want to talk about before we drop this recipe down below. Yes, this was inspired by the 2-Ingredient Brussels, but I like the low ingredient theme lately so these simple recipes won't be going away any time soon. That's not what I want to talk about, though.
In the 2-Ingredients Brussels recipe I made a brief quip about how everything is labeled as a "super food" these days. It's just one of those weird, trendy things that seems to be spreading like wildfire for whatever reason. That got me thinking, though, about some actual super foods and how to incorporate them into keto recipes. Who knows, maybe there will be a whole category for it here one day.
When I was thinking about which ingredients actually qualify as bona fide super foods the first thing that came to my mind was turmeric. Turmeric is basically an actual miracle. It's a godsend and it's crazy how little I hear people talk about it in my daily life. I won't do a deep dive right here and now but I am very likely going to do an entire post dedicated to the miraculous properties of wonder spice so keep an eye out for that.
As it turns out, turmeric is a main spice in curry powder, along with a few other winners like coriander thrown in there for good measure. That means that most curry powder is going to be carrying those amazing benefits of turmeric with it and that means that you can start taking full advantage of it in some amazing dishes by simply incorporating a healthy amount of curry powder. For a quick reference, here are some notable health benefits of curry powder:
Potent anti-inflammatory properties
Improved heart health
Potential anti-cancer effects
Powerful antioxidants
Lower blood sugar levels
Improved brain health
Antifungal and antibacterial properties
Boosts digestive health
This isn't even a full list! How insane is that?!
Moving past the outrageous amount of health benefits, curry powder is just downright freaking tasty when done right. One of my favorite vehicles for basically every flavor in the entire world is chicken — of course it is! Kinda basic, yeah, but chicken is so versatile it really is often the MVP of my meals. Besides, chicken curry is a classic.
You may be having a flashback if you read my 2-Ingredient Brussels post and saying to yourself right now, "4 ingredient curry? Can a recipe really be so simple and still flavorful?" Not to fear, my friend, I have predicted your concerns and I assure you they are baseless. So much fancy cooking has conditioned us in some small part to assume truly delicious dishes must be overblown and over-complicated with costly ingredients and time-consuming preparation. Poppycock, I say! If you don't believe me I invite you, as always, to see for yourself.
---
⏰ Total time: 10 mins prep / 25 mins cooking
🍴 Makes: 2 servings
Ingredients
1 lb ground chicken
1 can (400 ml) coconut milk
1 tbsp curry powder
1/2 head of cauliflower, broken into small pieces
2 tbsp coconut oil to cook with
Directions
🍴 Step 1
Take a small pot and add your coconut oil to it as your healthy grease. Once properly greased up, add the ground chicken and cook until slightly browned.
🍴 Step 2
Add your coconut milk and curry powder — and maybe a bit of salt/pepper to taste — and pop a lid on it. Let it simmer for about 15 minutes.
🍴 Step 3
Make sure your cauliflower is broken up into nice little chunks, then pop it into the pot and put the lid back on to let it simmer for another 4 or 5 minutes.
🍴 Step 4
If you neglected salting in step 2, now is the time to do so! If you didn't, consider adding some pepper or some other spices of your personal preference and you're ready to roll!
🔪 Note: This recipe is great for adding additional greens, veggies or even rice of your choice!
🔪 Nutrition Information
Serving size: about half of the prepared meal
Calories: 697
Sugar: 5g
Fat: 55g
Carbohydrates: 13g
Fiber: 5g
Protein: 42g
Images and dietetic information sourced from: The Keto Summit