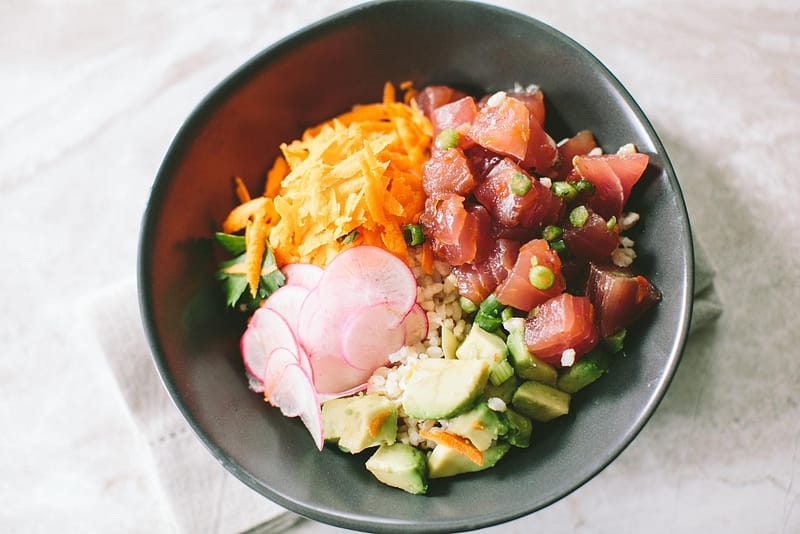 Are you craving something healthy, satisfying, and delicious? If you are looking for a tasty recipe that will fulfill your cravings, then you have come to the right place. In this blog post, we will be sharing with you a delicious recipe that combines fresh cucumber, creamy avocado, and canned tuna to create a delicious and healthy tuna poke bowl. This recipe is perfect for those who want to eat clean, stay healthy, and still indulge in something delicious.
But before we dive into the recipe, let's take a closer look at some of the ingredients that we will be using.
Cucumber
Cucumber is an excellent ingredient to use in this recipe as it adds a refreshing crunch and light flavor to the dish. Not only is it delicious, but it is also an incredibly healthy ingredient that is loaded with vitamins, minerals, and antioxidants. Cucumber is also low in calories and high in water content, making it a perfect ingredient for those who are watching their weight.
Canned Tuna
Canned tuna is an affordable and convenient ingredient that is perfect for this recipe. It is a great source of protein, omega-3 fatty acids, and other essential nutrients that are important for a healthy diet. Canned tuna is also easy to store and can be used in a variety of different recipes.
Avocado
Avocado is a superfood that is loaded with healthy fats, fiber, and other essential nutrients. It is also incredibly creamy and adds a delicious texture and flavor to this recipe. Avocado is a great ingredient to use in poke bowls as it complements the other flavors and ingredients perfectly.
Mayonnaise
Mayonnaise is a classic ingredient that is used in many different recipes. It is a creamy and delicious ingredient that adds a rich flavor and texture to this recipe. However, it is important to use it in moderation as it is high in calories and fat.
Sriracha
Sriracha is a spicy and flavorful ingredient that adds a kick to this recipe. It is made from chili peppers, vinegar, and other seasonings and is a popular ingredient in many Asian dishes. Sriracha is also low in calories and has some health benefits, such as boosting metabolism and reducing inflammation.
Sesame Oil
Sesame oil is a flavorful oil that is commonly used in Asian cuisine. It has a nutty and rich flavor that adds depth and complexity to this recipe. Sesame oil is also a healthy ingredient that is rich in antioxidants and has anti-inflammatory properties.
Tobiko
Tobiko is a type of fish roe that is commonly used in sushi and other Japanese dishes. It has a crunchy texture and a slightly salty flavor that complements the other flavors in this recipe perfectly. Tobiko is also a great source of protein and other essential nutrients.
Now that we have taken a closer look at some of the ingredients, let's dive into the recipe.
Ingredients:
1 Cucumber
10 oz Canned Tuna (Large Can)
1 Avocado
1/4 Cup Mayo
2 T Sriracha
1 Tsp Sesame Oil
8t Tobiko
Instructions:
Start by preparing the ingredients. Peel and slice the cucumber into thin rounds. Cut the avocado in half, remove the pit, and slice it into thin wedges.

Drain the canned tuna and transfer it to a mixing bowl. Add the mayo, sriracha, and sesame oil to the bowl and mix well.

To assemble the poke bowl, start by placing a layer of cucumber slices on the bottom of the bowl. Then add a layer of the tuna mixture on top of the cucumber slices.

Add a layer of avocado slices on top of the tuna mixture.

Repeat the layering process until all the ingredients are used up. Finish the bowl with a sprinkle of tobiko on top.

Serve immediately and enjoy!
Variations and Tips:
You can use other types of fish or seafood instead of canned tuna. Fresh sushi-grade tuna or salmon would work well in this recipe.

Feel free to adjust the amount of sriracha and mayo to suit your taste preferences. You can also use Greek yogurt or sour cream instead of mayo if you prefer a healthier option.

Add some extra toppings to the poke bowl, such as sliced jalapeños, diced mango, or chopped scallions.

Make sure to use ripe avocados for this recipe. You can tell if an avocado is ripe by gently pressing it with your finger. If it gives slightly, it is ripe and ready to use.

To save time, you can use a mandoline slicer to slice the cucumber and avocado.

This recipe makes one large serving. If you want to make multiple servings, simply double or triple the ingredients.
Tuna poke bowls are a delicious and healthy dish that are perfect for any meal of the day. They are packed with protein, healthy fats, and other essential nutrients, making them a great option for those who want to eat clean and stay healthy.
This recipe is simple and easy to make and can be customized to suit your taste preferences. Whether you prefer spicy or mild flavors, this recipe can be adapted to suit your needs.
So why not give this tuna poke bowl recipe a try? It is sure to satisfy your cravings and leave you feeling happy and healthy. Enjoy!