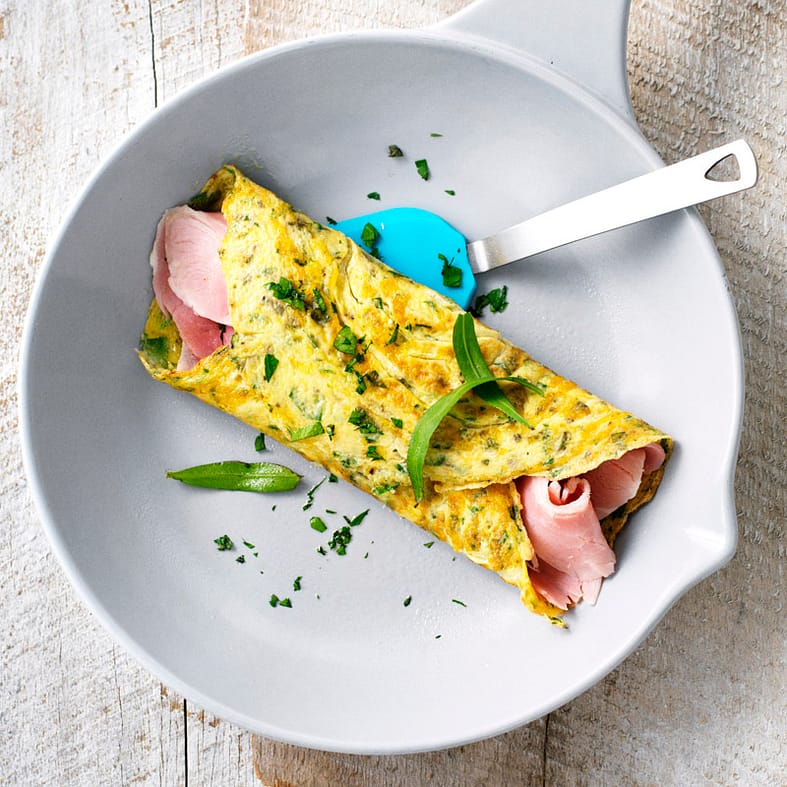 Uh, Let Me Eggsplain…
I can't decide if I should put these terrible puns as the name of the recipe or leave them as the sub-title. I feel like it would funnier as the recipe title but would probably affect the SEO or something dumb like that. Or maybe after I actually have some traffic I can change the titles later. I don't know, I'll look into it. Not that you care, you're here for some recipes!
Trust me, this one will go over easy. No long winded intro on this one, let's just crack right into it. You probably whisk I would just get to it already. That's fair, no need to beat me up about it. I could go on and on about how good this recipe is, but omelet you see for yourself. (Okay, I'm done.)
⏰ Total time: 10 mins prep / 10 mins cooking
🔪 Makes: 2 servings
Ingredients
2 large eggs
4 large egg whites
1/4 cup fat-free milk
1/8 teaspoon salt
1/8 teaspoon pepper
1/4 cup cubed fully cooked ham
1 tablespoon chopped onion
1 tablespoon chopped green pepper
1/4 cup shredded reduced-fat cheddar cheese
Directions
🍴 Step 1
Whip out a beefy mixing bowl and dump the first 5 ingredients into it, then whisk them together.
🍴 Step 2
Bust out your favorite 8-10in. skillet (aka "Ol' Reliable") and grease her up. Pop it over medium heat and pour the egg mixture in.
🍴 Step 3
Your beautiful egg mixture should set at the edges very quickly. As sections of eggs set, push them toward the center, letting uncooked eggs flow underneath.
🍴 Step 3
When eggs are thickened and there are no runny bits left, add the rest of your ingredients to only one half of the omelet. Then… you guessed it! Fold it in half like a pro! You're also probably going to want to cut it in half to serve, but that's personal preference. Voila!
🔪 Secret Tip: Omelets are the perfect versatile breakfast. If you don't like the toppings listed, you can sub your on and get creative!
🔪 Nutrition Information
Calories: 186
Carbohydrates: 4g
Fiber: 0g
Protein: 22g
Fat: 9g
Cholesterol: 207mg
Sodium: 640mg