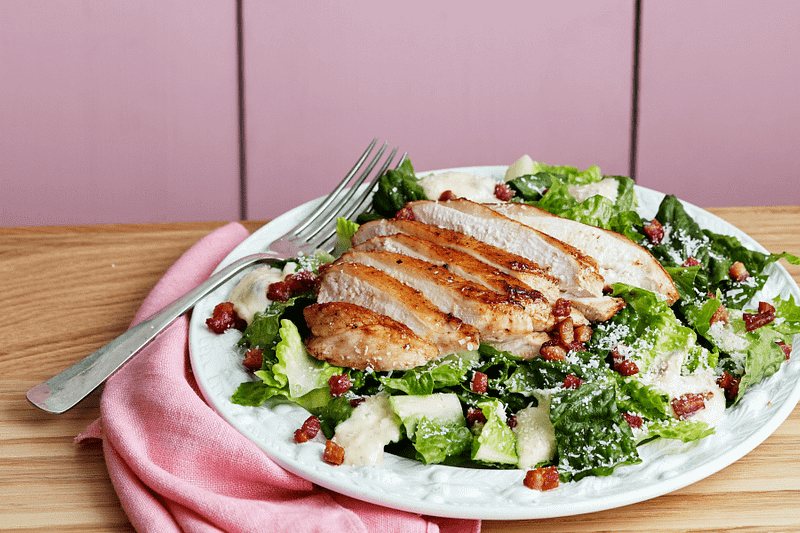 An Illegal Caesar of Property
Okay, that one was a bit of a stretch but if you get it, you get it. Also caesar salad isn't exactly leaping off the page asking to be punned. Or maybe I'm just tired. Probably safe to assume a little bit of column A and a lot of column B on this one.
You know, I really couldn't count the amount of people who I've spoken to personally or seen complaining about keto to the tune of, "I would love to go keto but it's so restrictive!" Or, "A regular diet takes enough of my favorites away, keto would be unbearable!" This, my foodie friends, is the absolute perfect recipe to just shove right in their keto-hating faces!
This is a total powerhouse salad and it really is just perfect light lunching for keto-ites. …Still trying to get that to sound right. It's got everything you need in a salad: juicy chicken, crispy bacon, crunchy romaine lettuce and a scrumptious dressing to top the whole darn thing off to perfection. Boom! You can't lose. Check it out.
---
⏰ Total time: 15 mins prep / 20 mins cooking
🔪 Makes: 2 servings
Ingredients
1. For The Dressing
½ cup mayonnaise
1 tbsp Dijon mustard
½ lemon, zest and juice
¼ cup (2⁄3 oz.) grated shredded Parmesan cheese
2 tbsp finely chopped filets of anchovies
1 garlic clove, pressed or finely chopped
salt and pepper
2. For The Salad
12 oz. chicken breasts, bone-in with skin
salt and pepper
1 tbsp olive oil
3 oz. bacon
7 oz. Romaine lettuce, chopped
½ cup (11⁄3 oz.) shredded Parmesan cheese
Directions
🍴 Step 1
Start your engines! Preheat that oven to 350!
🍴 Step 2
To make that delicious dressing just go ahead and mix all the ingredients together using a blender or, if you're feeling a bit old-fashioned, a simple whisk and bowl. Pop that mixture in the fridge, we'll grab it later.
🍴 Step 3
Grab your favorite baking dish aka "Ol' Reliable" and grease her up real good. Put your chicken breasts in the dish and wish them good luck.
🍴 Step 4
Season the chicken with salt and pepper and drizzle olive oil or melted butter on top. I hope you wished them luck because they're ready for their mission — put them in the fully heated oven for about 20-25 minutes, until they're nice and cooked through.
🍴 Step 5
Don't worry, we know you didn't forget the bacon and neither did we! While that chicken is roasting go ahead and fry some slabs up on the stove, making sure you get them nice and extra crispy without burning them.
🍴 Step 6
Step 6: some assembly required. Put salad down on your plates as a base, then add your juicy chicken, then crumble that crispy bacon on top of the chicken, then add a generous helping of dressing, and finally top with some grated parmesan cheese. Voila! There it is!
🔪 Secret Tip: You can add some hard-boiled eggs to this recipe!
🔪 Nutrition Information
Calories: 1076 (Sorry!)
Carbohydrates: 8g (5g net)
Protein: 64g (You're welcome!)
Fat: 87g